Donation of the bust of Yuri Gagarin to the Smithsonian National Air and Space museum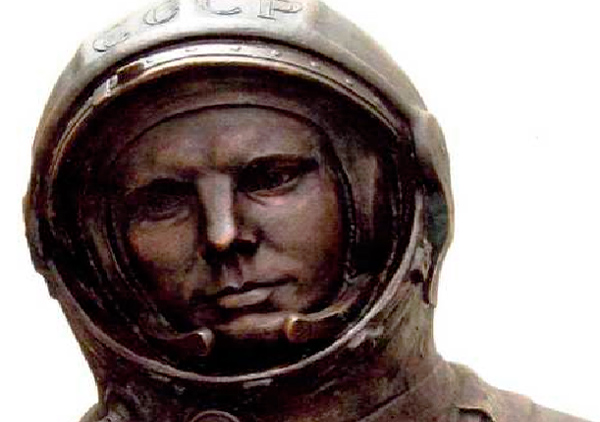 26 Апреля 2016
In April of 2016, the world celebrates the 55th anniversary of the first human spaceflight. On April 12, 1961, Russian cosmonaut Yuri Alexeyevich Gagarin made his orbital space flight in Vostok-l and safely returned to Earth.

To commemorate the anniversary, the Embassy of the Russian Federation to the U.S. and Rossotrundichesto have initiated a donation of a bust of Yuri Gagarin to the Smithsonian National Air and Space Museum. The donation is sponsored by the International Charitable Fund «Dialogue of Cultures - United World».

Being a gifted kid, Aleksey Leonov felt drawn to the art of sculpture since his early years. At the age of two, he began making figurines from plasticine and started working with clay in an art studio at five. In 1993, Leonov was admitted to the Department of Sculpture of the T. G. Shevchenko State Art School. In 2005, he graduated from the Academy of Fine Arts and Sculpture. During his student years, Leonov became interested in philosophy, world culture and the history of religions. He perfected his artistic skills in postgraduate school. He has been a member of the International Arts Fund since 2013.

Leonovs art has unique features and innovations. It has become a breakthrough in the artistic perception of human history and has a meaningful and positive charge that encourages human unification and reinforces moral and spiritual ideals.

Between 2005 and 2016, he has had over one hundred personal exhibitions in Russia, Ukraine, and Belarus. Leonov's works can be found in more than 50 cities the world over.


55th anniversary of Gagarin's space flight

On April 12, 2016, we commemorated the 55th Anniversary of man's first space flight. The spacecraft Vostok piloted by Yuri Gagarin orbited our planet and successfully brought the cosmonaut back to Earth after 108 minutes in space.

Yuri Gagarin was born on March 9,1934, in the Russian region of Smolensk. While a student, he joined the Air Force Amateur Club and learned to fly a light aircraft. Upon graduation, he devoted his life to aviation. In 1957, he graduated from the Orenburg Military Aviation School and was assigned to one of the Northern Fleet bases. Gagarin loved aviation and it would have probably kept him busy for the rest of his life had he not been interrupted by a qualification upgrade course for young pilots, aimed to teach them the use of «new technologies» - no one was openly talking about space flights quite yet. In 1960, Yury Gagarin was enlisted in the first cosmonaut unit and after intense training on April 12, 1961, traveled into orbit from the Baikonur Cosmodrome in Kazakhstan. Gagarin made a single orbit around Earth at an altitude of 188 miles in 1 hour 48 minutes thereby proving that a human could survive in space and even perform useful tasks. After the flight, he became one of the most popular persons in the country and around the globe. Nikita Khrushchev awarded Gagarin the title of Hero of the Soviet Union. That year many newborn baby boys in the USSR were named Yuri.

On March 27, 1968, Gagarin tragically died while making a test flight. He was buried in the walls of the Kremlin in Red Square. A crater on the moon bears his name, as does Gagarin Square in Moscow with its soaring monument, along with a number of monuments and streets in cities throughout Russia. At Baikonur a reproduction of his training room is traditionally visited by space crews before a launch. In Russia, April 12, the day of Gagarin's historical flight, became a holiday - Cosmonautics Day.

The 108 minutes Yuri Gagarin spent in space expanded the boundaries of mankind and opened a new era in the history of our planet. American astronaut Neil Armstrong, the first man who set foot on the Moon on July 20, 1969, said about Yury Gagarin, «He called us all into space». Gagarin's flight became a landmark in mankind's historical development. It reflects the perpetual need of people to solve the mysteries of nature and search for new living space.




Partners in Orbit - Fifth Annual Symposium of The Carmel Institute.