Bust of Alexander Pushkin opened in Copenhagen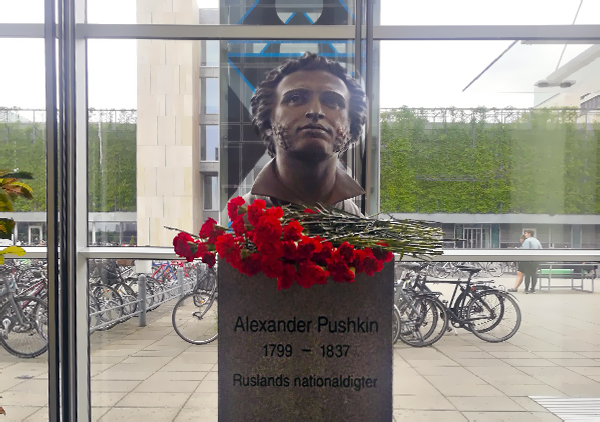 6 June 2017
The solemn opening ceremony of the bust of the Great Russian poet Alexander Pushkin took place on the birthday of the poet - June 6, 2017. The bust was donated by the Fund "Dialogue of Cultures - United World" as a present to the citizens of Copenhagen, Denmark. The sculpture was installed in the building of the Royal Library of Copenhagen University. The event was supported by the Russian Center for Science and Culture.
According to the director of the Royal Library, H. K. Mikelsen, the installation of the Pushkin's bust is a symbol of "strengthening ties between Russia and Denmark in different spheres and levels".
The solemn event was accompanied by reading the excerpts from the unpublished manuscript of Alexander Pushkin, the so-called "Kapnist's Notebook", which was considered lost for a long time, but subsequently found in the archives of Hans Christian Andersen. This manuscript is known as one of the Pushkin's most significant autographs. Today it is kept in the Royal Library of Denmark.
"There is a long history of relations between the famous Danish storyteller and writer Hans Christian Andersen and our Great poet Alexander Pushkin," A. Markaryan said. "That is why it was decided to install the monument here"
The bust established in Denmark became the fourth opened by the Fund. In 2014, a similar monument was installed in Montevideo, Uruguay, in 2015 - in Ulaanbaatar, Mongolia, and in 2016 in the capital of Bangladesh Dhaka.