Call for participants: Drawing and photo competition "I offer you peace"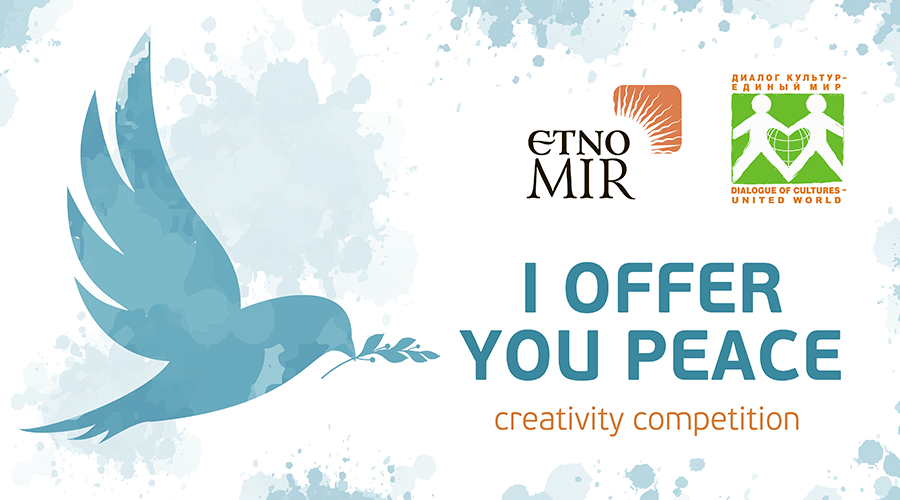 9 October 2017
International Charity Public Fund "Dialogue of Cultures-United World" and ETNOMIR cultural and educational center announce the opening of the application period for drawing and photo competition "I offer you Peace", devoted to the International Day of Non-Violence.
International Day of Non-Violence is marked every year on 2 October, the birthday of Mahatma Gandhi, founder of the philosophy and strategy of non-violence, famous ideologist and leader of Indian peaceful independence movement.
This memorable date was established by the United Nations General Assembly resolution of 15 June 2007, to "disseminate the message of non-violence" and "to secure a culture of peace, tolerance, understanding and non-violence."
The competition aims to contribute to building a harmonious society, free from violence, hatred and intolerance.
The goals of the project are spreading knowledge about the concept of non-violence and the International Day of Non-Violence, promoting such values as non-violence, understanding, peace, respect for diversity in the society, and encouraging peaceful methods of bringing about societal changes.
Individuals and groups of individuals, who are citizens of the Russian Federation and other countries, regardless of their nationality and age are invited to participate in the competition.
All interested participants are kindly asked to complete the online application form and send their pictures or photos, illustrating one of the famous quotes of Mahatma Gandhi to info@ethnoworld.ru.
Mahatma Gandhi's quotes selected for the competition are:
An eye for an eye only ends up making the whole world blind.
You must be the change you wish to see in the world.
The best way to find yourself is to lose yourself in the service of others.
I offer you Peace. I offer you Love. I offer you Friendship. I see your beauty. I hear your needs. I feel your feelings.
Non-violence is the greatest force at the disposal of mankind.
The name of the submitted file should contain the author's last name and the number of the quote that the work intends to illustrate (for example: Ivanov1.jpg). Please, indicate the name of the competition in the e-mail's subject.
Every participant may submit up to 5 works for each quote.
The deadline for application is 31 October 2017.
The competition winners will be selected by an expert commission before November 16, 2017. The list of winners will be published on the organizer's website - http://ethnoworld.ru/en/.
All participants of the competition will receive participation certificates, competition winners will be presented with diplomas and prizes. The best photos and paintings will be presented at exhibition, that will open in ETNOMIR cultural and educational center on 16th November 2017, the International Day for Tolerance and World Philosophy Day.
Contact information
+7 495 710 72 01, ext. 1290, 1408, 1390