My Nationality is Mankind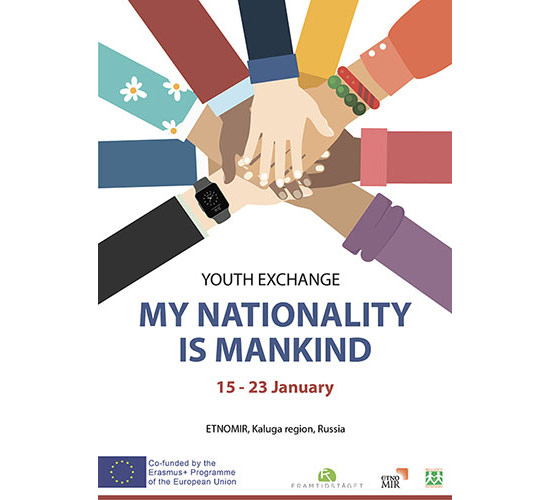 31 October 2018
On 15 - 23 January 2019, the Cultural Educational Center "ETNOMIR" (Kaluga Region, Russia) will hold the International Youth Exchange "My Nationality is Mankind" aimed at promoting the culture of peace and intercultural dialogue among the world's youth. The program will gather 30 young people aged 18-30 from Russia, Slovakia, Finland, Sweden, Egypt and Morocco. The project is co-financed by Erasmus+ Programme of the European Union.
The program of the youth exchange is based on non-formal education methods which means that the participants will be learning from each other through team-building activities, role plays, games, group work & discussions, acting exercises, photo competition - no lectures or lessons! The program will also include evening activities such as intercultural evening and game nights. Topics that the participants will explore during the youth exchange are peace, diversity, inclusion, intercultural dialogue, stereotypes, prejudices, conflict resolution.
The venue for the youth exchange will be the cultural and educational center ETNOMIR, an ethnographic park located 90 km from Moscow on the border of Moscow and Kaluga regions. The mission of the park is to promote intercultural dialogue and preserve the cultural diversity of the world.
To participate in the selection, fill out an application before 23:59 (UTC +3) on November 10, 2018.
Five Russian participants will be selected for participation in the program. The organizers provide accommodation and meals at the time of the youth exchange, and partially cover the transportation costs of the participants.
Learn more (Eng)