Yuri gagarin bust unveiled in Bulgaria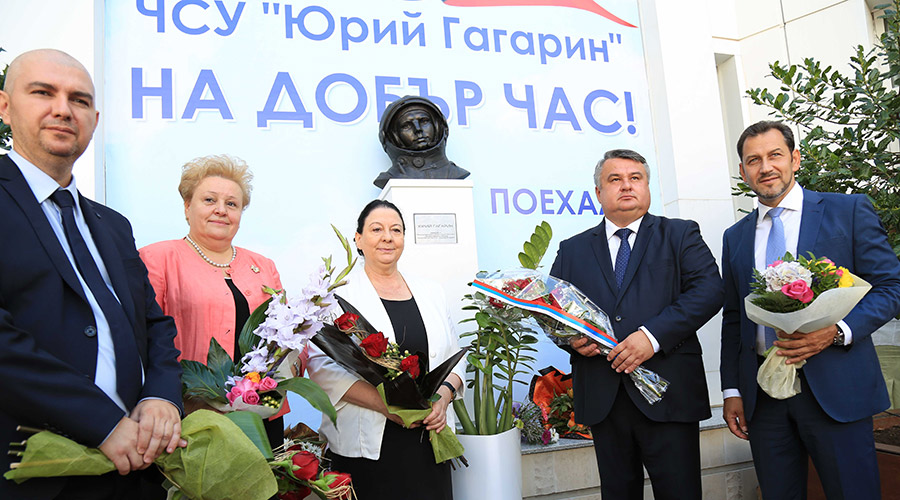 20 September 2017
Private Secondary School named after Yuri Gagarin, located near the city of Varna, held an opening ceremony of the first cosmonaut's bronze bust, donated by International Charity Public Fund "Dialogue of Cultures- United World".
The opening took place on the first school day at Yuri Gagarin school, which is a private educational institution, located in Kamchia Sanatorium and Health Complex, that provides education to pupils from 15 countries in accordance with Russian and Bulgarian educational standards.
The unveiling ceremony was attended by Consul General of the Russian Federation in Bulgaria Sergey Lukyanchuk, head of Representative Office of Rossotrudnichestvo Pavel Zhuravlev, Mayor of Avren Municipality Emmanuel Manolov, founder of Yuri Gagarin school and Executive Director of Kamchia Sanatorium and Health Complex Stanka Shopova, as well as principals of schools in the Korolev city, which is widely known as Russia`s space capital.
The bronze bust of Yuri Gagarin was presented to Kamchia Sanatorium and Health Complex by the fund "Dialogue of Cultures-United World" and has become the 40th sculpture of the famous astronaut opened by the fund across the world.
The Fund´s president sent a greeting letter to the organizers and guests f the ceremony, congratulating the students with the start of a school year and expressing hope for strengthening cooperation between the people of Russia and Bulgaria.
"Yuri Gagarin´s flight is one of the greatest scientific and technical achievements of the 20th century, that has become the world's heritage. I sincerely hope, that from now on, the Gagarin´s bust is going to inspire the younger generation of Yuri Gagarin school and Kamchia Complex to shape the future of the world, based on cooperation of countries and friendship between peoples", said Ruslan Bayramov.