«Russian Language - Russian Soul» International Festival
«Russian Language - Russian Soul» International Festival was organized with the support of «Russian World» Fund and the Ministry of Culture and Education of Kaluga region to promote the Russian language and Russian culture.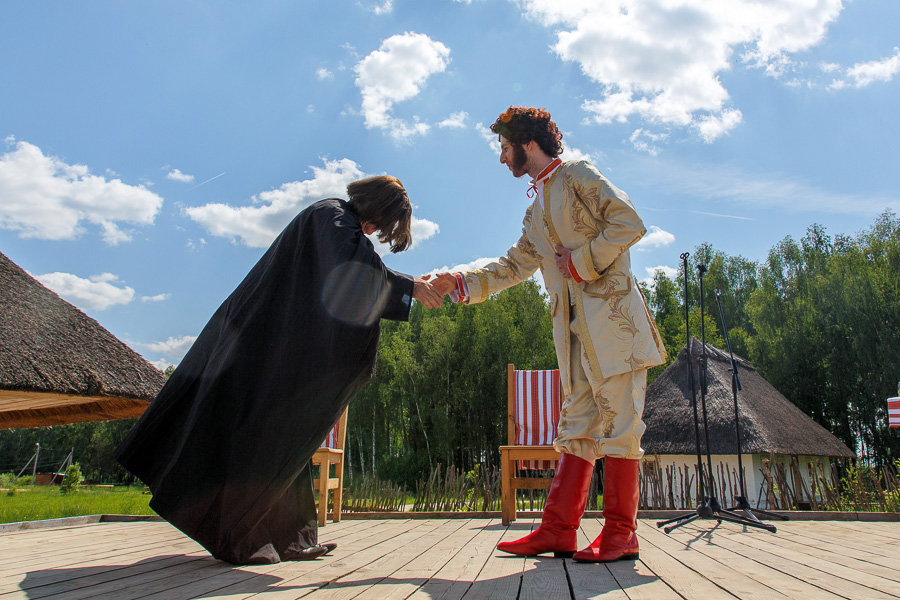 The event was held twice - in 2012 and 2013 and is dated to the Day of the Russian Language established by the Decree of the President of the Russian Federation in 2011.
The main participants of the festivals included international students of Patrice Lumumba Peoples' Friendship University of Russia, Pushkin State Russian Language Institute, Tsiolkovskiy Kaluga University, Kaluga Drama Theatre and Boris Schukin Theatre Institute. Talented young men and women prepared small theatrical performances according to the works by Pushkin and Gogol and presented them to the audience in «ETNOMIR» Cultural and Educational Center.
It is amazing how guys who grew up in other cultures were able to transform into the classical Russian characters. Theatrical performances went mainly on the stage, but were from time to time transferred directly into the auditorium, where the students-actors did circle dances, sang folk songs, played the thread-and-needle and hide-and-seek. Spectators vividly responded clapping hands and enjoyed participation in the performance. Then the students tasted Russian and Ukrainian national dishes, discovered the park, received certificates and gifts.
The festival got a warm response from the state authorities, public and educational institutions. Its participants were welcomed by the Minister of Culture of Kaluga region Alexander Tipakov, teachers of the PFUR and PSRLI, Director of Russian programs of «Russian World» Fund Svetlana Scherbakova, representative of «Russian World» Fund Olga Vintaykina, Rector of Kaluga State University M.A. Kazak, representative of Russian Cooperation Organization A.V. Solovyov, Director of the Institute for Civil Society M.A. Slobodskaya, representative of the Cultural Center at the Embassy of Iran Saeed Hosseyn Tabatabai and Cultural Counselor of the Embassy of Senegal in the Russian Federation Mamadou Dian.
First Deputy Prime Minister of the Russian Federation Igor Shuvalov, Minister of Culture Vladimir Medinskiy and Chairman of the Board of «Russian World» Fund Vyacheslav Nikonov sent congratulatory telegrams to the festivals.
In addition to the educational goals, the festival has become another platform where representatives of different cultures united by common love for the Russian language could meet each other and reach new strings of friendship between their countries.