Collection of fairy tales of all peoples of Russia and the CIS countries
«Dialogue of Cultures - United World» International Public Charity Fund published a colorfully decorated collection of fairy tales of the peoples of Russia and CIS countries.
The project is aimed to reveal the riches of culture and traditions born in the depths of the history of the CIS countries on the example of folk diversity and wisdom of fairy tales.
The idea of the book published under the auspices of the Commission of the Russian Federation for UNESCO belongs to writer Mark Vatagin who devoted over half a century to collecting and processing fairy tales of the peoples of Russia and the former USSR republics. During his artistic life, the writer published more than 50 books translated into 11 languages.
The book of fairy tales which collected the wisdom of 127 peoples of the CIS and neighboring countries is the result of over half a century of hard work on the study of scientific research, materials of ethnographic and folklore expeditions, cooperation with the national institutes of language and literature. The collection even includes fairy tales of the people who have a low level of writing or no writing at all.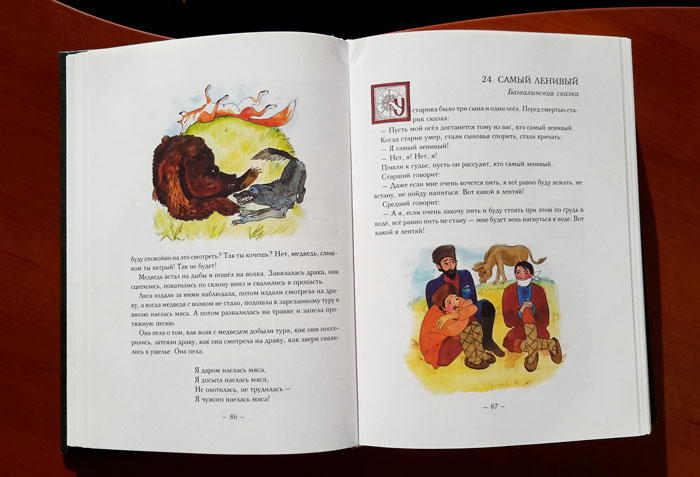 In this book uniting ethnic groups within the range of the Russian language, each nation is represented by a fairy tale. The edition contains comprehensive ethnographic information. The collection opens with a message of Chairman of the Federation Council
Sergei Mironov
and ends with a line:
«One hundred fairy tales of one hundred peoples' is a gateway to the bright and joyful world that we, adults, dream to give to our children».
The book consists of three parts: fairy tales of European Russia; fairy tales of the peoples of Siberia and the North; fairy tales of the CIS countries and the Baltic States.
The collection «One hundred fairy tales of one hundred peoples» was published in November 2007 declared the Year of the Child and Russian language in Russia.