The Monument to Mother Teresa
Mother Teresa is a nun canonized by the Catholic church, a founder of the religious congregation "Missionaries of Charity" and Nobel Peace Prize Laureate.
Mother Teresa was born in Skopje in an Albanian family, when she turned 18, she decided to join the Sisters of Loreto in Ireland. Soon she moved to India, where she took her vows as a nun, and established the order "Missionaries of Charity" that ran schools, homes and hospitals for poor people regardless of their religion. In 1973, she received the Templeton prize for Progress Toward Research or Discoveries about Spiritual Realities and in 1979 she became a Nobel Peace Prize Laureate.
Mother Teresa devoted her entire life to serving impoverished and suffering people and carried out her mission for more than 50 years. The Missionaries of Charity, which initially was a small community of only 12 members, numbered more than 400 sisters by the time of her death. Nowadays the order has houses all around the world. Mother Teresa has become a symbol of charity and compassion of the 20th century. People praised and admired her. She was entrusted with a hard but joyful mission of proclaiming that God is love, and that love is the main purpose of every human life.
Dialogue of Cultures –United World Fund initiated installation of the sculpture of Mother Teresa in ETNOMIR, Kolkata (India) and Rome (Italy) to acknowledge the outstanding contribution of Mother Teresa to the world and to uphold the values of compassion and humanity.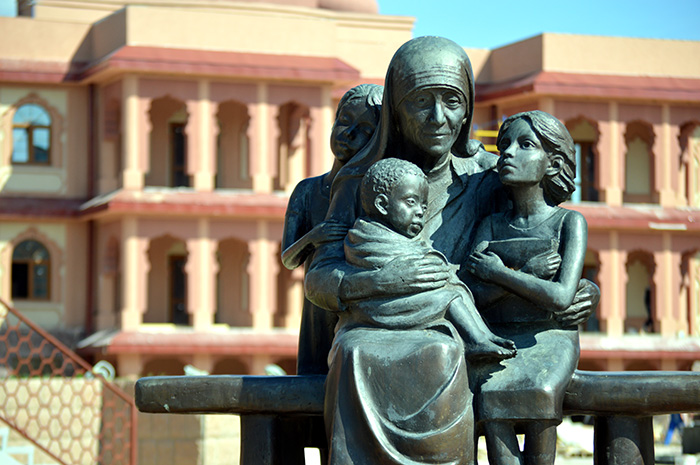 The Dialogue of Cultures- United World Fund presented Mother Teresa sculpture to the Pontiff on 7 December 2016. Pope Francis gave his blessing to placing the sculpture in Vatican near the St. Peter's Square. President of Dialogue of Cultures- United World Fund Ruslan Bayramov, President of Sofia Charity Fund Olga Glukhova and the author of the sculpture Aleksey Leonov, attended the meeting with the Pope.
The monument to Mother Teresa erected in Kolkata, India on 17 February 2012. The monument was opened by the Dialogue of Cultures-United World Fund in cooperation with Kolkata Municipal Corporation and Consulate General of the Russian Federation in India and installed near the Kolkata city library.
The monument to Mother Teresa unveiled in ETNOMIR on 21 August 2010. Representatives of Missionaries of Charity in the Russian Federation and Jawaharlal Nehru Cultural Center of the Embassy of India in Moscow, Minister of Culture of Kaluga region Aleksandr Tipakov, and representatives of local authorities attended the opening ceremony of the sculpture, which was installed in the ethnic yard "South Asia".
Sculptor: Alexei Leonov.