TGS Summer School in «ETNOMIR»
On July 20-27, 2014 «ETNOMIR» held the Second Summer School of the Russian Geographical Society (RGS) organized with the support of «Dialogue of Cultures - United World» Fund.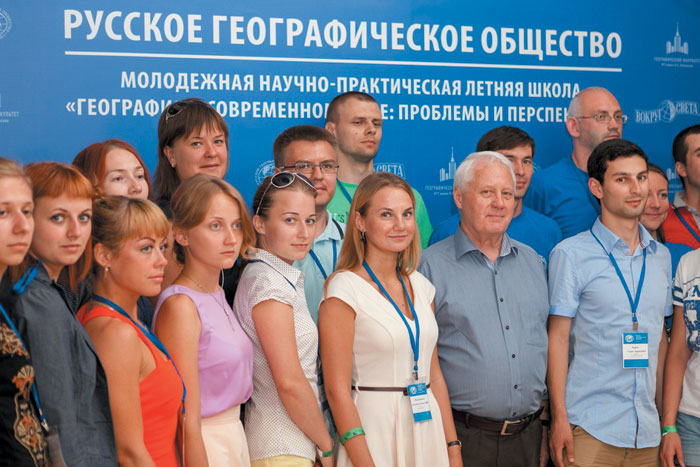 RGS Summer School is a platform where young experts of the event exchange experience and get acquainted with the current state of geographical science learning from professional geographers and ecologists.
In 2014, the venue for the Summer School was «ETNOMIR» Cultural and Educational Center, which brought together 35 promising young scientists from Russia, Belarus, Armenia, Kazakhstan and Kyrgyzstan. 50 speakers came to work with the youth, including renowned scientists - Director of the Institute of Geography, Academician Vladimir Kotlyak, Dean of the Faculty of Geography of Moscow State University Nikolai Kasimov, Head of the Department of Physical Geography and Spatial Planning of the Faculty of Geography and Geoecology of St. Petersburg State University, Professor Kirill Chistyakov, famous polar explorer, First Vice President of the RGS Arthur Chilingarov and others.
Despite the intense lecture plan, the school program also included workshops, debates, round tables, simulation games, trainings, guided tours, meetings with travelers and photographers and even urban orienteering.
The program had its touching moments such the making of a children's coloring book, for which each of the participants drew an image. Later, these coloring books will be published by Khakassia republic department of the RGS and given to orphanages.
As part of the School, young scientists also took part in the design competition in the following fields: «Ecology, natural resources and education in sustainable development», «Physical geography» and «Economic, social and tourism geography». After careful examination of the submitted works, an expert jury announced the winners: Yelena Guk, Natalia Krasnoshtanova, Anna Oshkader, Natalia Sologub and Olga Zheleznova. The winners received certificates, books and special prizes from the Vokrug Sveta (Around the World) magazine.
Participants of the Summer School found the event innovative, interesting and useful. Some of the guys were able to determine their future development in geographic sciences, someone called the school the most amazing event in life, and someone just warmly thanked the organizers for the opportunity and the prospects that opened up before them. And the prospects are numerous indeed: nine school students were given the right to realize their projects on ecological education in the Baikal within the promotion «360 minutes for Lake Baikal»; the authors of several projects were invited to publish their works in the Russian scientific journal «News of the Russian Academy of Sciences. Geographical Series», and RGS Vice President Kirill Chistyakov offered the young participants to publish their materials in the oldest geographical periodical «News of the Russian Geographical Society».