«Dialog» International youth camp
The camp started its work in 2009, and since then it is annually held in the territory of «ETNOMIR» Cultural and Educational Center in Kaluga region.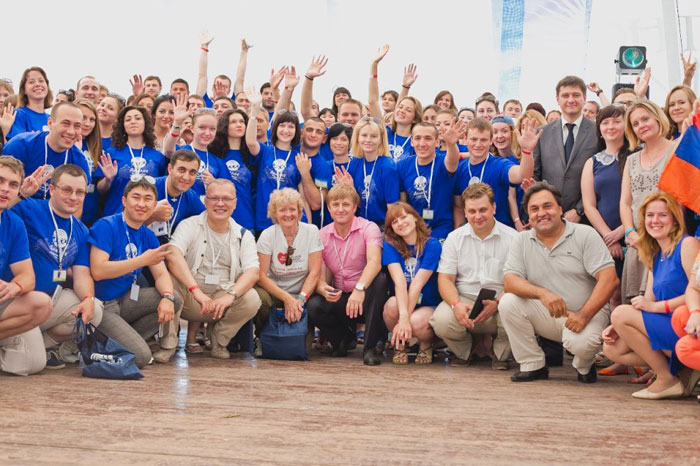 «Dialog» (Dialogue) is an annual international youth camp organized by the Youth Department of the Council of Europe, National Council for Youth and Children's Associations of Russia jointly with the Ministry of Education and Science of the Russian Federation, Government of Kaluga region, «Dialogue of Cultures - United World» Fund and Multinational Russia Club.
The main purpose of the camp is to create a live intercultural communication space for young people allowing to unite the best practices in the field of international dialogue and cooperation. Camp participants are foreign students of Russian universities, representatives of youth public organizations, students from member countries of the Council of Europe and the CIS.
Within 4 days the camp participants meet representatives of the Council of Europe and the Russian authorities, coaches, discuss problems of intercultural communication, participate in team projects, talk about themselves, the traditions and culture of their people, learn to interact with each other and solve problems together. The project also includes a wide entertainment and educational program: workshops in traditional crafts of the world, sports, discussion clubs, excursions, flash mobs, concerts and an ethnic festival. Selection of the venue for the camp is not accidental. «ETNOMIR» is a space of synthesis and dialogue of cultures; its main objectives include uniting young people, strengthening friendship and building mutual understanding. In addition, unique organization of the ethnographic park allows to demonstrate the diversity and beauty of the national traditions of different peoples to the camp participants.
«Dialog» project was supported by the Ministry of Sport, Tourism and Youth Policy, National Council for Youth and Children's Associations of Russia, Directorate of Youth and Sport of the Council of Europe, Federal Agency for Youth Affairs, Fund of personnel reserve training «State Club» and many other public and non-government organizations.