Kaluga Tourism Forum
Annual event dedicated to the development of culture and tourism in the regions of Russia.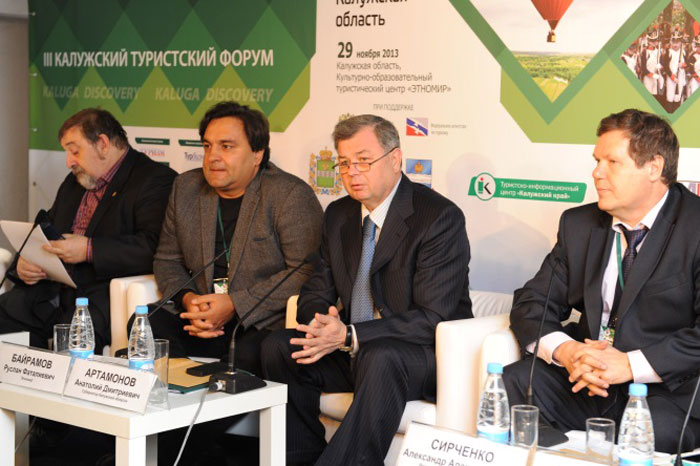 Kaluga Tourism Forum
is an annual event dedicated to the development of culture and tourism in the regions of Russia. The first Forum in 2011 was organized by the Government of Kaluga region, «Kaluga region» Tourist Information Center, AK&M News Agency and «Dialogue of Cultures - United World» Fund through «ETNOMIR» Cultural and Educational Tourist Center. The Forum also received support from the Russian International Academy of Tourism (RIAT) and numerous partners of the event.
The Forum is a platform gathering professionals, experts and developers of the tourism industry so they can discuss issues of regional tourism development, identify the main trends and draw up common strategies. For example, the major constraints for the implementation of the tourism potential included insufficient level of services and low accessibility. In turn, Federal Agency for Tourism (Rosturizm) has developed a target program «Development of domestic tourism in the Russian Federation», which includes partial financing of projects aimed at the development of tourist infrastructure in the regions. An important role in the development is played by the cluster principle - when funds are directed not to single infrastructure facilities, but to entire tourist complexes providing not only entertainment and educational services, but also accommodation and meals for tourists. By the way, according to A. Tipakov, «ETNOMIR» Centre can be considered one of the best examples of the successful combination of cognitive and event tourism, where, in addition to educational projects and organization of thematic festivals and exhibitions, guests are offered a high level of hotel and restaurant services.
Currently, Kaluga tourism forum is one of the biggest events of the industry. IV Forum was attended by about 500 participants, including representatives of the Ministry of Culture of the Russian Federation and Federal Agency for Tourism, regional governments, heads of districts and leaders of tourism companies.