«Commonwealth Youth Days» International Camp
| | |
| --- | --- |
| Type: | Education and Science , International Cooperation |
| Country: | Russia |
| Year of opening: | 2015, 2014, 2013, 2012, 2011, |
| Project Partners: | Russian Cooperation Organization, Ministry of Education and Science of the Russian Federation, Government of Kaluga region, K.E. Tsiolkovskiy Russian State Technological University, Federal Agency of Youth Affairs, Russian New University |
As part of its activities on the organization of platforms for intercultural dialogue, the Fund co-organizes the annual «Commonwealth Youth Days» International Camp.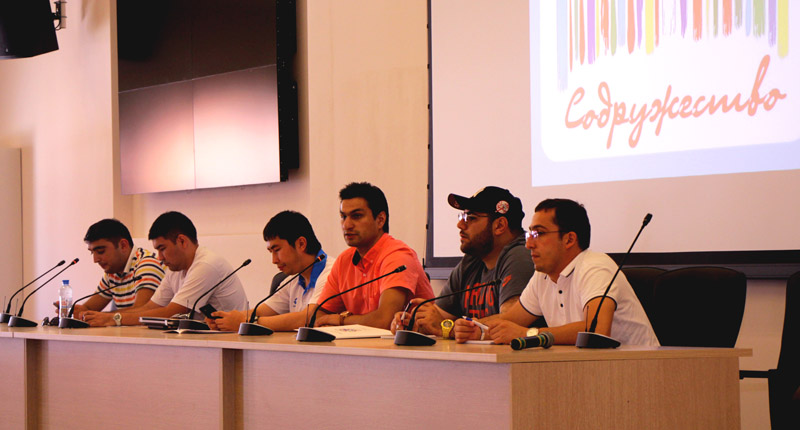 The annual «Commonwealth Youth Days» camp
is aimed at uniting young people to promote humanitarian cooperation and strengthening friendship, mutual understanding and cooperation between the youth of the CIS countries and other states of the Eurasian space. The initiators and main organizers of the event are International Youth Public Sodruzhestvo Organization and Russian Cooperation Organization. The camps received support from the Ministry of Education and Science of the Russian Federation, Federal Agency for Youth Affairs, K.E. Tsiolkovskiy Russian State Technological University, Russian New University and Government of Kaluga region.
Every summer since 2011, the camp gathers youth leaders, activists of NGOs, members of the youth parliaments of Abkhazia, Armenia, Azerbaijan, Belarus, Georgia, Kazakhstan, Kyrgyzstan, Latvia, Lithuania, Moldova, Russia and other countries. As part of the camp, participants meet experts and politicians, undergo training, participate in creative games, seminars and discussion clubs and submit their projects for competition. The work program takes place in the territory of
«ETNOMIR» Cultural and Educational Center
, where business meetings are interspersed with entertainment events and team building games resulting in gradual formation of a strong, cohesive team of participants from different countries. In addition, young activists have a rich cultural program in the capital - sightseeing, visiting parks, theaters and major museums.
One of the key events of the camp is the conference of IYPU Sodruzhestvo aimed to coordinate and consolidate youth actions in the Eurasian space. The organization plans to set up its branches in all the CIS and Caucasus countries, as well as in the Baltic States, which will be responsible for the creation of a common information space, promotion of cultural tourism, support of the initiative and talented young people in their regions.
It is symbolic that
«ETNOMIR» Cultural and Educational Center
created to unite people of different cultures and nationalities is repeatedly chosen the venue for the camp. In the case of the «Commonwealth Youth Days» camp, «ETNOMIR» serves as a platform for dialogue between
the best young public activists from 17 countries
.