«ETNOMIR» Cultural and Educational Center
«ETNOMIR» is a large-scale Cultural and Educational Center in Kaluga region, 90 km from Moscow.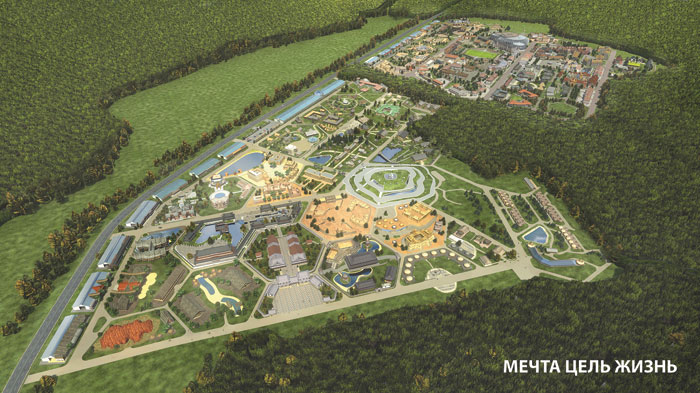 «ETNOMIR» is a huge picturesque park spread on 140 hectares, and its landscape harmoniously includes
national ethnic yards
. An ethnic yard is an open area authentically reproducing the culture of one or several countries represented by the corresponding architecture, exhibition halls, hotels, workshops and restaurants of the national cuisine.
Being a living model of the world in miniature, «ETNOMIR» - just like the real world - lives, develops, builds and changes each day. One of the most important features of the center is its full interactivity - everything can be touched or tested in action. Thus, visitors can not only admire the exhibits, but also immerse themselves in the cultural environment of other countries.
Walking around «ETNOMIR», guests make a dizzying journey around the globe - the faster you walk, the more rapidly buildings, interiors, colors, smells and sounds change around you.
OBJECTIVES
«ETNOMIR» Cultural and Educational Center is a comprehensive solution to address the Fund's main objectives:

Study, preservation and promotion of different cultures;
Creating platforms for live dialogue between cultures;
Teaching ethnic tolerance.
The «ETNOMIR» team are doing a great job on studying different cultures to introduce park visitors to the brightest and most important features allowing to understand the «cultural code» of a particular country. The knowledge gained in the study of cultures is carefully stored in the center's archives.
At the same time, it would be wrong to reduce the role of «ETNOMIR» only to exhibiting everyday objects and samples of craftsmanship. In addition to regular exhibitions, the park constantly holds activities aimed at promoting dialogue between cultures. Thus, the center performs the main objective of the Fund, which is to create cross-cultural communication space.
MUSEUMS, EXHIBITIONS AND SHOPS
| | |
| --- | --- |
| 6 ethnic yards | 8 workshops |
| 18 sculptural compositions | 11 museums |
| 30 exhibition halls | Puppet theatre |
A tour around «ETNOMIR» begins with the
Mira Street
 - several covered pavilions with smaller pavilions-houses inside them. Each house is an exhibition hall with an exhibition devoted to a certain country or region. These houses hold tours and give workspace for craftsmen. Everyone has an opportunity to take a lesson of a certain craft or simply admire the master's work. It is pleasant to walk around pavilions alone or with a guide, admire the architecture of different countries, choose beautiful souvenirs, relax in a cafe, or explore unique items, which are quite numerous here.
Exhibition part of «ETNOMIR» is complemented by
over 10
museums already, including Museum of Samovars, Museum of Puppets of the Nations, Museum of Irons (with the largest collection in Russia), USSR Museum, Museum of Vintage Cameras, Russian Stove Museum, Museum of Wildlife, etc.
CULTURE AND EDUCATION
30 educational programs
2,000 educational establishments visit «ETNOMIR» each year
50 excursions and themed workshops
The exhibition of cultures is not limited to regular exhibitions.
Each week
the park has a separate theme dedicated to a particular country. As part of the theme week, guests get acquainted with the traditions, customs and way of life of the country, and the week is completed with a holiday weekend, festival or national holiday. On New Year's Eve and Maslenitsa, the park holds large festivities with concert programs, fairs, amusements and sports competitions.
An important part of the center's operation is the development of additional education. Professional teachers of «ETNOMIR» have developed over 30 educational programs for pupils and students, in which young people discover culture of the countries represented in the park. Educational programs are divided into sightseeing and practice.
EVENTS AND ACTIVITIES
«ETNOMIR» annually holds dozens of events of regional, federal and international importance to address the Fund's objectives, preserve and promote the cultural heritage of mankind and develop tourism in Russia.
Events of the Fund received support from the Ministry of Culture of the Russian Federation, Ministry of Foreign Affairs of the Russian Federation, Ministry of Education of the Russian Federation, Ministry of Sport, Tourism and Youth Policy of the Russian Federation, UNESCO Moscow Office, Commission for UNESCO of the Russian Federation, Government and Governor of Kaluga region, from Russian and international public organizations.
INFRASTRUCTURE
| | |
| --- | --- |
| 10 ethnic hotels | Shops |
| 6 restaurants and cafés | Kindergarten |
| Residential projects | Free guarded parking |
The main feature of the tourist infrastructure of the park is a collection of unique
ethnic hotels
located in different ethnic yards in accordance with the theme of the hotel. Every guest has an opportunity to choose a vacation to his/her liking - from exotic Tuvan yurts, where you are particularly aware of the closeness to nature, to a respectable SPA hotel «Sri-Lanka», where, in addition to overnight, guests are offered SPA programs for health improvement and rejuvenation of the body.
Each restaurant
in the park also has a certain theme. They offer Russian, European, Eastern and vegetarian cuisines.
For guests who come to the park for a long time, there is an apart-hotel «Himalayan House», where you can rent beautiful apartments for a long term.
There is a solution for those in love with «ETNOMIR» ready to settle in the park.
Ethnic Houses
are unique eco-friendly buildings located right in the center's territory with the necessary infrastructure: shops, a kindergarten, it is planned to open a school. Construction of the eco-village «Safe Haven» will be completed in the coming years, providing its residents not only with a comfortable accommodation, but also with a whole new lifestyle «three-in-one» - work, housing and leisure in one place, away from big cities and their noise.
«ETNOMIR» 2020
| | |
| --- | --- |
| 13 pavilions on the Street of the World | 530 hotel rooms |
| 1668 apartments for permanent residence | 52 ethnic yards |
| 56 restaurants | 136 exhibition halls |
| 10 wellness centers | |
«ETNOMIR» is a rapidly developing project to be completed by the end of 2020 according to the master plan. The complex will be the epitome of beauty and diversity of our world, will present the achievements and cultural features of all countries of the Earth.
«ETNOMIR» is a project of the practical implementation and realization of dreams, ambitious goals and ideals. It is a contact of peoples, dialogue in the languages of art and crafts that do not require translation. It is a way to look at the whole world, become aware of its scale and magnificence, see what's unavailable or difficult to see in real life with an ordinary sight.
«ETNOMIR» IN OTHER COUNTRIES
Within 10 years, «ETNOMIR» Cultural and Educational Centers will be opened in 14 countries:
Czech Republic, Germany, Kazakhstan, India, China, Vietnam, Cambodia, Australia, South Africa, Egypt, United States of America, Mexico, Brazil and Argentine
. Czech «ETNOMIR» has already been opened in summer 2015 in the historic center of Prague. It is a three-storey space which hosts national celebrations, workshops, exhibitions and lectures on international cooperation in the field of culture. The ground floor has a restaurant offering vegetarian dishes from different countries.