Romashkovo Manor
A tourist complex built according to the model of an ancient Russian manor of the VI-VII centuries.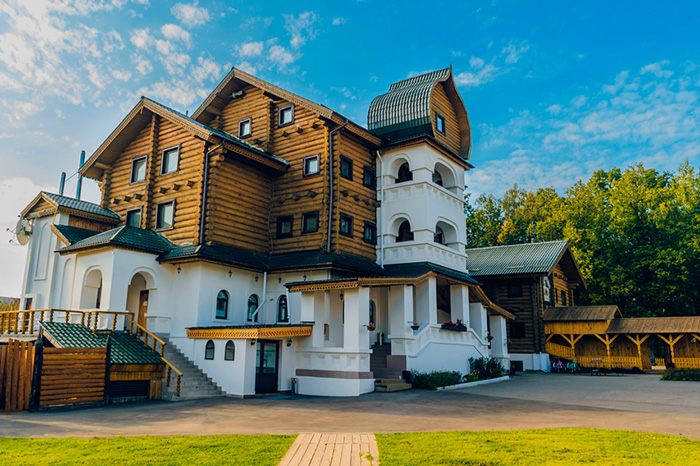 Romashkovo Manor
is a tourist complex built according to the model of an ancient Russian manor of VI-VII centuries. The architectural ensemble of wood and white stone is located in Odintsovo district of Moscow region, just 3 km away from Moscow Ring Road. The complex combines the ethnographic museum and a venue for national celebrations and has the necessary tourist infrastructure - 2 hotel buildings in Russian and European styles, a cozy Pechka (
Stove
) restaurant, children's playground and convenient parking lot.
There are two museums in the territory of the manor - House without corners and Russian izba. House without corners is a spacious felt yurt installed right in the manor's yard. Museum guides tell about the traditions and way of life of nomadic peoples, hold tea ceremonies and workshops in crafts. Russian izba (
hut
) represents authentically recreated atmosphere of a village house with chests, benches, a spinning wheel, samovar and other antique household items. Interactive games, sightseeing tours and workshops for children and adults are held here.
One of the main tasks of the complex is the restoration, preservation and promotion of the cultural traditions of different peoples. Now the emphasis is made on the Slavic culture, but it is planned to introduce other ethnic groups in the manor in the future. On weekends, the manor holds colorful celebrations open to all visitors. Special excursion programs are adapted to the theme of the celebration which changes every week. The festive atmosphere is complemented by folk music ensembles, game programs and a variety of workshops. On Saturday evening, the manor holds theme parties representing table traditions of different peoples of the world.