Belarus Museum
«Dialogue of Cultures - United World» International Public Charity Fund pays great attention to preserving the history of national cultures. The Belarus Museum was opened in the territory of Ukraine and Belarus Ethnic Yard of «ETNOMIR» Cultural and Educational Center on November 14, 2007.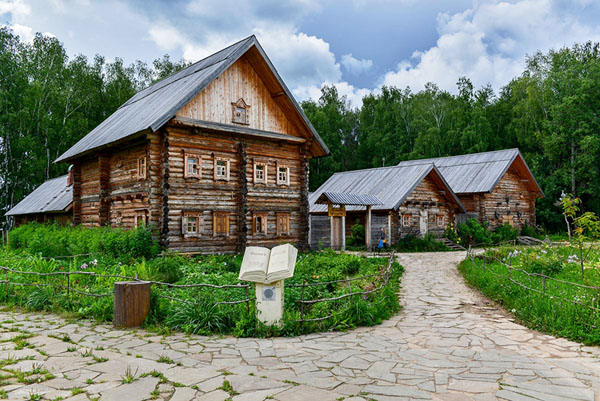 A unique Belarus museum is located in a wooden izba (hut) as an integral part of the Belarusian
khutor1.
Its exposition is spread in the vast territory of Ukraine and Belarus ethnic yard being a part of «ETNOMIR».
The Belarus Museum has a Culture Keeper who knows many interesting stories about the life of the khutor and its residents because each exhibit is a whole story from the life of the Belarusian people, and the exhibition in general is presented in the form of the interior of an old Belarusian hut. Speaking with a slight accent, the
Culture Keeper of the Belarusian khutor
talks of the old times:
«The inner space of the hut is arranged so that each person could feel cozy and comfortable as in his/her own home. Grandparents, taking care of young children, are sharing their knowledge on the stove. Young girls are engaged in needlework, and the mistress of the hut is at the stove doing her best to feed everyone. The elder sons make useful items for the household with their father. The hut has enough space for everyone, and if there are expecting parents in the family, there will be the best place for a cot as well».
Every day the Belarus Museum holds workshops
, where guests are shown the traditions of craftsmanship. The Flax exhibition represents a real loom and complicated devices for the production of linen fabrics that came to us from the depths of the centuries. Skilled craftsmen of ancient techniques scutch and clean the flax, then spun and wound up linen threads. The unique Weaving workshop is intended for mastering the basic skills of the ancient weavers. The other premises of the Belarusian khutor hold regular workshops in the traditional crafts: baking, soap-making and decorative painting on glass. The Belarus Museum is a cultural reserve preserving the traditions of the Belarusian culture.
[1]
a type of rural locality in some countries of Eastern Europe; in the past the term mostly referred to a single-homestead settlement)