Museum of Irons
In August 2014, «Dialogue of Cultures - United World» Fund opened the Museum of Irons in the territory of «ETNOMIR».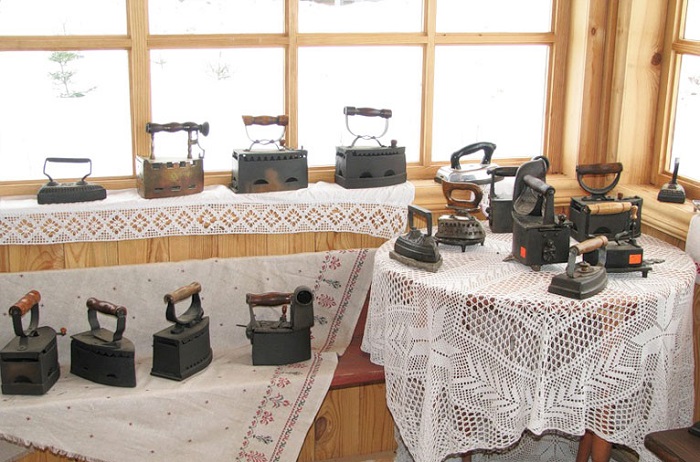 In the summer of 2014, «Dialogue of Cultures - United World» International Public Charity Fund exhibited a collection of antique irons in one of the buildings of «ETNOMIR» Cultural and Educational Center. The collection with about 300 pieces represented the general history of the evolution of this device but could hardly compete with the major Russian collections. However, in December of the same year, the museum collection was replenished with a private collection of antique irons and became the largest one in Russia.
Iron is an ordinary household item of every family. We are accustomed to modern electric models made of lightweight materials. But the first irons were quite different: heavy, bulky and very uncomfortable. The history of irons dates back several centuries. Before the invention of electricity, people used irons on burning coals, which were replaced by cast iron heating devices weighing up to 10 kilograms in the 18
th
century. Afterwards, they made a successful competition to more advanced electric models. In ancient times, irons were so expensive that they were passed on as inheritance. An iron in the house was considered a symbol of prosperity and material well-being of its owners.
The Museum of Irons in «ETNOMIR» is radically different from similar establishments in other cities because here you are allowed to not only take pictures, but also take each rare item and try it in action. The museum's collection contains more than 600 exhibits from all corners of Russia. For example, an author's iron with a portrait of the great Russian writer Lev Tolstoy, artistic iron in the form of a sea whale, iron with a price tag of «30 kopecks», ancient coal iron and iron «bar with a handle» popular among contemporaries. The main collection of antiques is located on the ground floor of the ethnographic courtyard of the Russian Stove Museum.
The museum is open all year round holding organized tours for visitors. Museum guides tell about the use of irons by ancient Greeks and Aztecs, about the differences between ordinary household irons and special tailoring irons and provide many amazing facts about the long history of irons. At its core, the museum collection reflects the long evolution of ironing devices from the first models with burning coals to ultramodern electrical home appliances.