Museum of Samovars
The Museum of Samovars was opened in the territory of «ETNOMIR» Cultural and Educational Center on May 12, 2014. The author of the project is «Dialogue of Cultures - United World» International Public Charity Fund.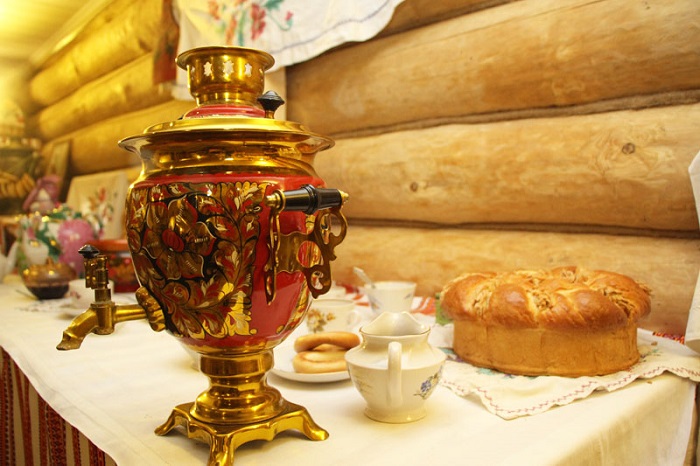 The Fund's mission is in preservation and enhancement of cultural heritage for future generations. On May 12, 2014 a Museum of Samovars opened in the territory of «ETNOMIR», in Arkhangelsk wooden hut near the world's largest Russian stove. Today, the museum's collection includes more than twenty antiques: samovar-onion, samovar-glass, samovar-nut and other types of this remarkable device, which has become an integral part of the cultural history of Russia.
Museum guides will tell many interesting things about the history of Russian samovars: how much they cost, why these devices were sold both by piece and by weight, why Tula is the capital of the Russian samovar, who «navodilshchiki» and «ludilshchiki» are, what «tokmak» is. In the museum you can touch each samovar and look at it both outside and inside, to get an idea how to pour water inside and where to kindle cones and split. Besides, the guides explain the difference between sbiten and tea and show what «sbitennik» looked like. Moreover, the history of the samovar has many misconceptions, and the main one is the place of its invention. Despite the fact that many people consider the samovar a purely Russian phenomenon, similar devices were used in China and Europe back in the ancient times.
Russia got to know the samovar in the late 17
th
century, when it became a true symbol of Russian hospitality and the main attribute of tea traditions of our compatriots. Due to the scarcity and high price of new-fashioned tea, only wealthy people could afford it in those days. Therefore, the majority of Russians enjoyed fragrant and useful sbiten - traditional Slavic drink based on spring water, fresh honey, St. John's wort, sage, ginger and other spices and herbs. Russian first samovars were meant for the preparation of legendary sbiten with a specific taste and a mass of useful properties. Unlike traditional tea, classic sbiten is a traditional Russian drink, history of which goes back more than 1,000 years.