«Russian Izba» Museum
On May 1, 2015 «Dialogue of Cultures - United World» opened the Russian Izba Historical Museum in the territory of Romashkovo Manor.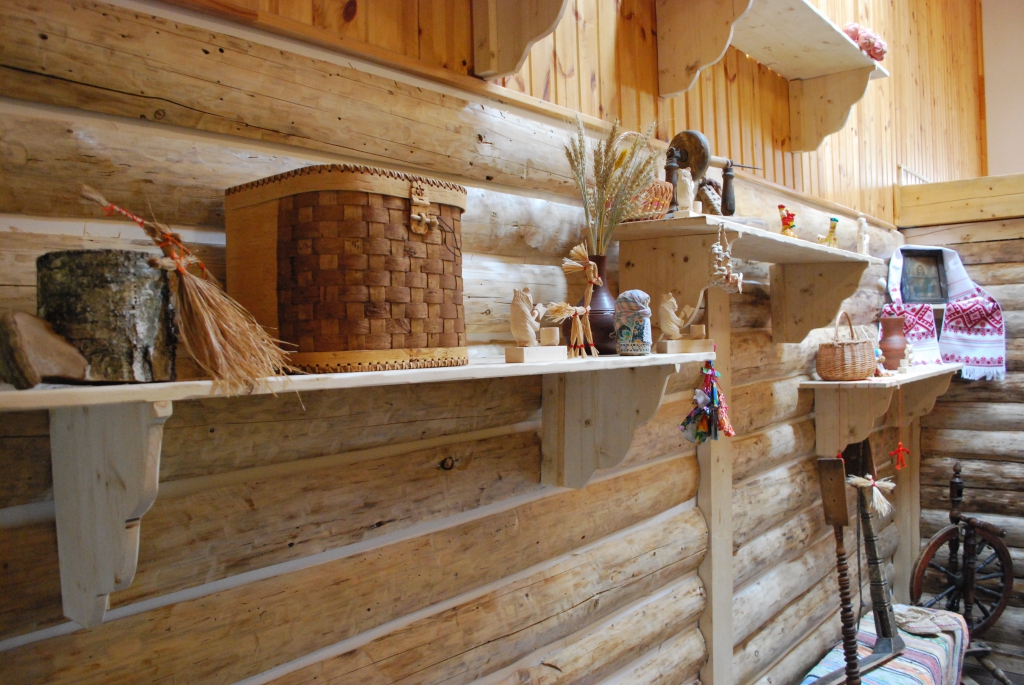 The museum exhibition is a traditional house of the Slavic tribes carefully restored and recreated in every detail. Next to a replica of the famous Russian stove, there are objects without which one cannot imagine domestic routine of the Slavs: stack of wood, wooden table and benches, chests and baskets, distaff and spindle. The collection of the exhibits of the Russian Izba Museum is complemented with household items: rolling stick, hand hulling machine, massive irons, wooden utensils, clay pots and jugs, tongs for dishes, embroidered blankets and painted towels, children's toys made of wood and colored fabrics.
The most important feature of the historical museum is its absolute interactivity. You can safely use any object of the museum's collection for its intended purpose: put a pot in the stove using an iron fork, smooth a towel using a wooden rolling stick, sit on a wooden bench, play with children's toys, get to a sleeping shelf and do much more. Thus, you can touch the elusive culture of the ancient Slavs and feel in the place of our ancestors.
Guides of the Russian Izba Museum will acquaint visitors with the lifestyle and customs of the ancient Slavs: what houses were built at that time, how extended families of ten to fifteen people lived in one hut, how they raised children, celebrated folk and religious holidays, cooked food, cured themselves, and what toys were given to children. The museum holds regular workshops on applied arts and folk crafts for adults and children.