Monument to Lao Tzu
Installation of monuments to legendary ancient Chinese philosopher Lao Tzu is another step in strengthening the friendship between the Russian Federation and the People's Republic of China.
The General Assembly of the United Nations declared 2010 the International Year for the Rapprochement of Cultures and the Year of the Chinese Language in Russia.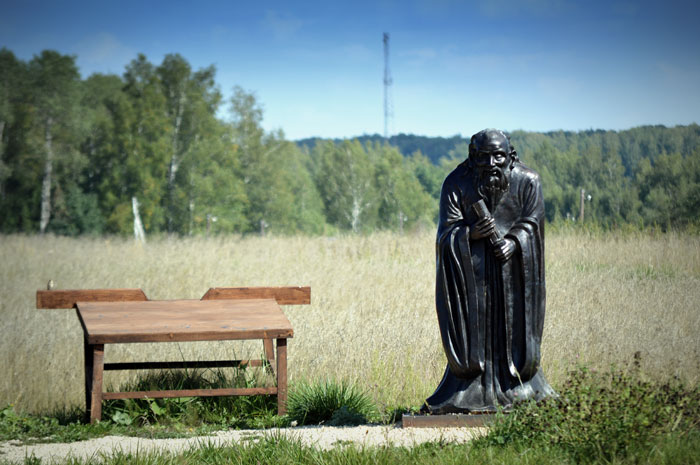 «Dialogue of Cultures - United World» Fund in cooperation with the Lao Tzu Institute presented the monument to Lao Tzu to the city of Luoyang (China), where a famous meeting of two legendary philosophers, Lao Tzu and Confucius, took place in 517.
The second monument was installed in the territory of China ethnic yard in «ETNOMIR» (Kaluga region, Russia) on October 22, 2010.
The opening ceremony was attended by Ambassador of the People's Republic of China to Russia Mr. Li Hui and Governor of Kaluga region Anatoliy Artamonov, representatives of the Embassy of the People's Republic of China in Russia, Deputy Chairman of the Fund of Confucius (China), Mr. Gao Yu Qing, representatives of the Federation Council of the Federal Assembly of the Russian Federation, representatives of the Federal Agency for Commonwealth of Independent States, Compatriots Living Abroad and International Humanitarian Cooperation (Russian Cooperation Organization), Minister of Culture of Kaluga region, Minister of Sport, Tourism and Youth Policy of Kaluga region, representatives of the Far East Institute of the Russian Academy of Sciences, public figures of Russia and China.
Welcome letters were received from Chairman of the Federation Council of the Federal Assembly of the Russian Federation S.M. Mironov, UNESCO Moscow Office, abbot of the Shaolin Temple in China and representatives of the Institute of Lao Tzu in Hainan Province (China).